Welcome to Dallas County Missouri Genealogy Research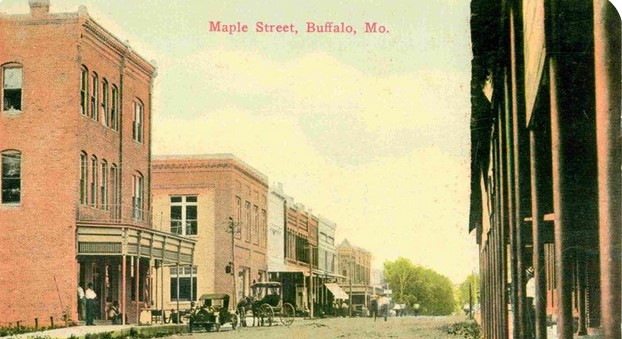 Buffalo MO circa 1925


My name is Bob Jenkins and I created this website to provide genealogy
information and links to genealogy information to assist people in researching
their Dallas County Missouri ancestors.

I would appreciate any contribution that you would like to make to this site:
biographies, obituaries, birth, marriage, death info, grave info, photographs....etc


Use the box below to search
for Dallas County Data


Brief History:

Settled in the 1830's by pioneers primarily from Tennessee, Indiana, and Ohio, Dallas County is part of territory
ceded by Osage Indians in 1808.

The county was organized in 1841 as Niangua County, named after the river which bisects it south to north. In
1844 it was renamed Dallas County, after U.S. Vice President George M. Dallas.

Buffalo, the county seat, was founded in 1841 on Buffalo Head Prairie. The prairie, and subsequently the town,
was named for a buffalo skull landmark erected by the first settler, Mark Reynolds, in 1833 near the present
junction of U.S. Highway 65 and Missouri Highway 32.